Log Country Cove
Solar Eclipse 2024
4 – Night Minimum
All pricing listed below is the nightly rate for the unit. There is a 4-night minimum, no exceptions. 60 day cancellation policy. Check in dates are Friday and Saturday ONLY.
Additional Fees
There is a resort fee of $5.00/person each day. There will also be a $100.00 Solar Eclipse fee/person. You will have your standard cleaning fee, county and state hotel/motel tax added on to the nightly rate. You will be charged this on top of the nightly rate.
Solar Eclipse Events
Log Country Cove will be hosting events throughout the weekend of the Solar Eclipse. Be sure to stay in the loop on our website, facebook page or by subscribing to our email list.
Maegan Breann
1bd | 1b | jacuzzi tub | water front
$825/night
+ cleaning/resort fee
Manda Shae
1bd | 1b | water front
$750/night
+ cleaning/resort fee
Rica Shae
1bd | 1b | water front
$750/night
+ cleaning/resort fee
Steen
1bd | 1b | jacuzzi tub | water front
$825/night
+ cleaning/resort fee
Shadyside
1bd |  2b | water access
$750/night
+ cleaning/resort fee
Hillside
1bd | 2b | water access
$750/night
+ cleaning/resort fee
Cozy Cottage
1bd | 1b | water access
$750/night
+ cleaning/resort fee
Grin N Bear It
2bd | 2b | hot tub | water access
$1350/night
+ cleaning/resort fee
Arrowhead
2bd | 2b | basement | fireplace | water front | hot tub
$1350/night
+ cleaning/resort fee
The Matador
2bd | 2b | basement | fireplace | water front
$1350/night
+ cleaning/resort fee
Longhorn Cove
2bd | 2b | fireplace | water access
$1275/night
+ cleaning/resort fee
Treehouse
3bd | loft | 3.5b | fireplace | hot tub | boat house | water front | pet friendly
$2085/night
+ cleaning/resort fee
Running Bear
3bd | 3b | wheelchair accessible | 2 Jacuzzi tubs | hot tub | water front | 2 boat slips |
$2085/night
+ cleaning/resort  fee
Dustin Layne
3bd | 2b | fireplace | water front
$2085/night
+ cleaning/resort fee
Belle Oaks
3bd | 2b | pool | hot tub | fireplace | pet friendly
$2625/night
+ cleaning/resort fee
Silver Bear
3bd | loft | 2b | fireplace | hot tub | pool | water access
$2625/night
+ cleaning/resort fee
Red Wing
3bd | 2.5b | pool | hot tub | wood stove | boat ramp access
$2625/night
+  cleaning/resort fee
Riverside Gold
3bd | 3b | waterfront| boat lift
$1725/night
+ cleaning/resort fee
Meadow
3bd | 2b | fireplace | water access
$1275/night
+  cleaning/resort fee
No Worries
4bd | 3b | waterfront
$1650/night
+ cleaning/resort fee
Bear's Landing
4bd | 4.5b | fireplace | 3 main level bathrooms | pool | hot tub | water access
$3600/night
+ cleaning/resort fee
Cowboys Cove
4bd | 5.5b | pool | hot tub | boat lift | waterfront
$4197/night
+ cleaning/resort fee
Creekside
4bd | 3b | pool | hot tub | waterfront
$4197/night
+ cleaning/resort fee
Elkhart
4bd | 4b | fireplace | pool | hot tub | water front
$4197/night
+  cleaning/resort fee
Heroes Hideaway
4bd | 4b | pool | fireplace | water access
$3450/night
+ cleaning/resort fee
Rockin' J
4bd | 3b | fireplace | pool | hot tub | water access
$2775/night
+ cleaning/resort fee
Vaughn
4bd | 4.5b | fireplace | hot tub | waterfront
$4050/night
+ cleaning/resort fee
Riverpark on Lake LBJ
4bd | 3.5b | water front
$3675/night
+ cleaning/resort fee
Haynes Hideaway
5bd | 4b | pool | hot tub | waterfront
$3750/night
+ cleaning/resort fee
Wooodhaven
5bd | 4b | pool | water access
$3750/night
+ cleaning/resort fee
Leanin' K
5bd | 3.5b | fireplace | pool | hot tub | water access
$3600/night
+ cleaning/resort fee
Cabin Fever
5bd | 5b | fireplace | 3 bedroom main house/2bedroom bunkroom | pool | hot tub | water access
$3300/night
+ cleaning/resort fee
Coyote Moon
5bd | 4.5b | pool | hot tub | water access | game room
$5997/night
+ cleaning/resort fee
Redtown
5bd | 4.5b | pool | hot tub | water access
$3900/night
+ cleaning/resort fee
Lost Moose Lodge
6bd | 5b | pool | hot tub | water access
$5250/night
+ cleaning/resort fee
Big Timber Lodge
5bd | 7b | pool | hot tub | waterfront | game room
$11097/night
+ cleaning/resort fee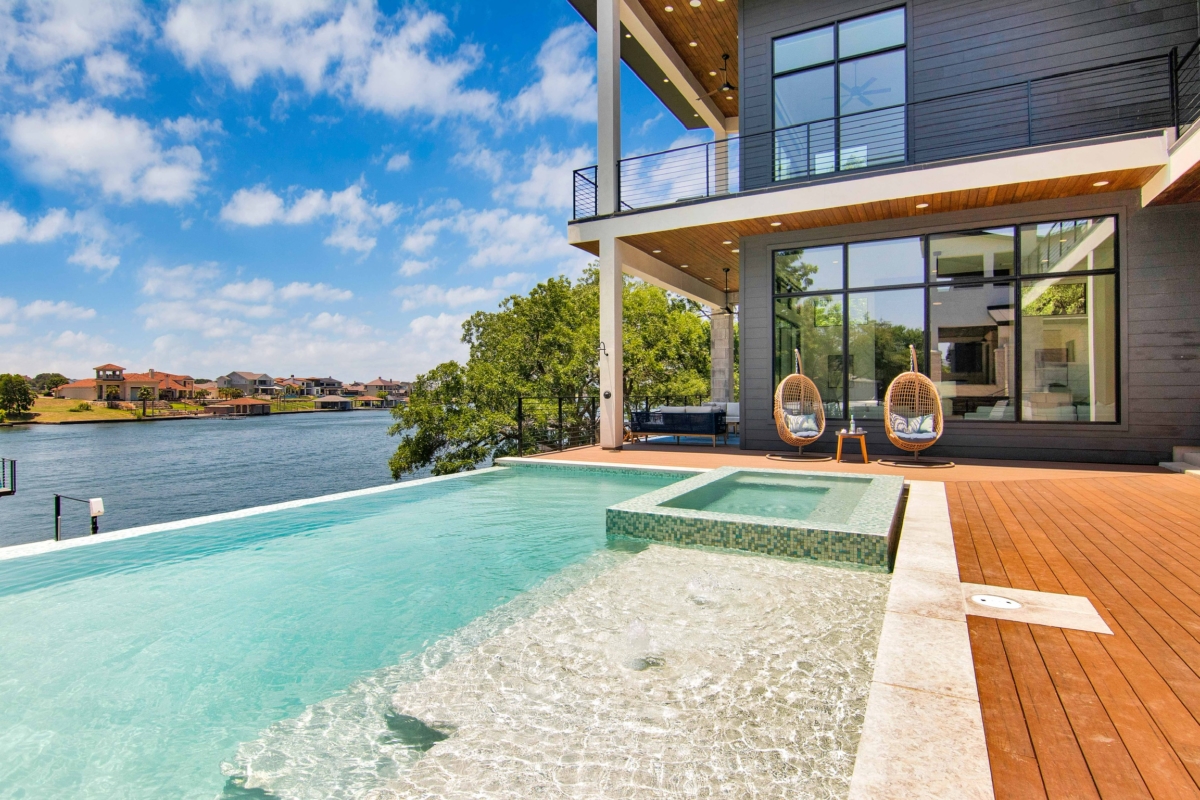 King's Landing LBJ
6bd | 6.5b | pool | hot tub | waterfront| game room | boat lift| water slide
$12000/night
+ cleaning/resort fee